More than 100 years of production and innovation

Production

Quality

Deadlines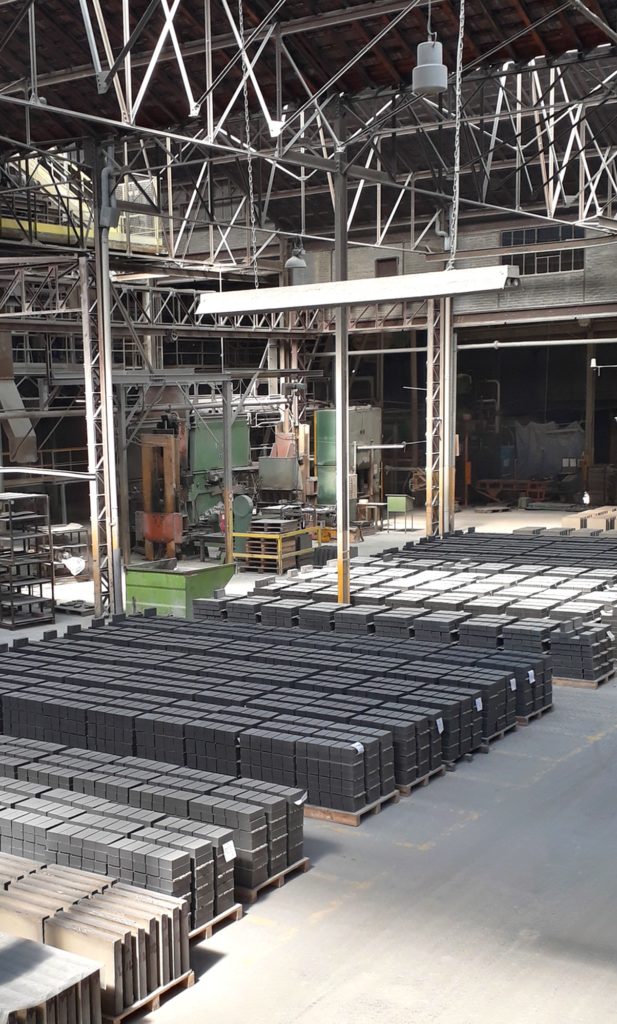 The firebrick plant of Monsempron-Libos dates from the 1910's, and its name was Societe des Produits Refractaires de Funnel et Libos".
It was owned by different big industrial French or foreign groups of which St-Gobain, Lafarge, Hepworth, Alpine, Vesuvius... Over 300 employees worked there in the 70's and 8o's.
Throughout its existence, this company has accumulated and developed, thanks to the men, a know—how, innovative technologies, and has respected a quality.
Concerning the production of the refractory materials, this firebrick plant was one of the first French companies to develop the pressing technology.
Our team delivers you our range of products and offers you a technical assistance to respond to your demand.
The advantages of Tellus Ceram
From 1300°C to 1850°C, Tellus Ceram offers you
a range of more than 60 different qualities.

Unique know-how in Europe
Thanks to a production by pressing technology, Tellus Ceram differs with mechanically stronger products, while maintaining high insulation properties.

Tellus Ceram is one of the only companies to offer large format pieces (800 x 500 x 120 mm monobloc).

Exceptional reactivity
A "heavy" industry as the refractory products industry often raises the problem of its inertia to adapt and find new answers to specific requests. Because we care about the needs of our customers, we have a large stock of different variety of qualities and formats.

Innovation capacity
Tellus Ceram invest 8% of his turnover in research and development to offer the best refractory solution. Thanks to this invests, Tellus Ceram positions himself as the major actor of resolving some problems related to : corrosion resistance, thermic chocs, ...

Quality
system
Do the quality choice by choosing Tellus Ceram. That's why we have a rigorous quality monitoring policy, with complete traceability of the choice of raw materials, until expedition. The main key success factors of this policy are: the requirement of the clauses of our specifications and the use of European raw materials exclusively.
We understand your needs and propose you the most appropriate solutions.
Mesmin BERAGNES
Chief executive officer
Colette RIVALS
Executive assistant
Alexandre ESPOUNE
Manager environnement et sécurité
Sylvain PELADAN
Ingénieur céramiste, Manager fabrication
Samir GHERAIBIA
Manager finition
Bruno STOKLET
Manager logistique
Jean-Pierre Lopez
Manager qualité
Stéphane BARBEY
Manager bureau d'études
Annual production capacity (in millions of bricks)
Turnover realised at the export
Dense fire bricks
Insulating fire bricks
Dense castables, insulating castables and insulating aggregates
Refractory cements
Precast shapes
The Drilok System
Tellus Ceram in the newspapers
ARTICLE PUBLIÉ PAR SUD OUEST L'entreprise mise sur la qualité pour se démarquer. (© Photo J. P.) Retour sur l'histoire…
ARTICLE PUBLIÉ PAR ECOMNEWS Située à Monsempron-Libos, la Briqueterie Tellus-Ceram conçoit et fabrique des produits réfractaires isolants. Dernière innovation en…
ARTICLE PUBLIÉ PAR TOURNON REPORTER Après avoir frôlé la liquidation judiciaire en 2013, la briqueterie de Monsempron-Libos est repartie vers…
Don't hesitate to contact us for any information.